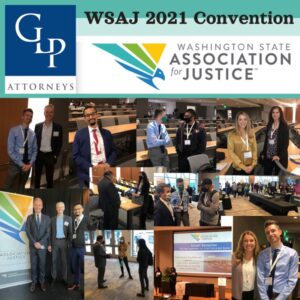 Over the last three days, from September 22 – 24, 2021, GLP Attorneys attended the Washington State Association for Justice (WSAJ) Annual Convention, held at the Bell Harbor International Conference Center in Seattle. Our firm was a Platinum sponsor for the event. The convention allowed attorneys the opportunity to network, participate in classes and Q&As, attend an awards ceremony, and check out vendors able to assist their firms.
GLP Attorneys had several of our attorneys in attendance including, Shareholder John Webber (who is the current Vice President of Public Affairs for WSAJ), Shareholder Jim Gooding, Shareholder Jonathan Yousling, Partner Ben Compton, Senior Associate Attorney Melissa Westberg, and Senior Associate Attorney Adrienne Harris.
Learn more about WSAJ on their website.